Cape Florida Lighthouse
Bill Baggs Cape Florida State Park, Key Biscayne, Florida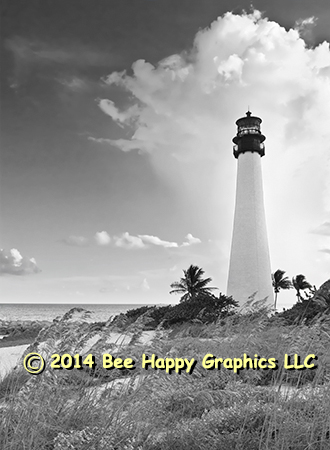 This photograph of the lighthouse was taken from the beach north of the lighthouse in the late afternoon. The original image was in color.
The lighthouse was built as a 65-foot structure in 1825 on the south tip of Key Biscayne, just across Biscayne Bay from what is now Miami. In 1855 it was extended to 95 feet. After being replaced by the Fowey Rocks Light in the water more than six miles southeast, Cape Florida Light was extinguished in 1878. It was also out of service between 1836 and 1847, and then again between 1861 and 1866 because of damage during wars. We have climbed the 109 metal steps to the top a number of times.
For more information, check out the following blog posts:
Cape Florida Lighthouse
Cape Florida Lighthouse In Color
For different perspectives on Cape Florida Lighthouse, check out our other images:
Snorkeler at the Lighthouse
Fish's View of Lighthouse
Fish's View of Light and "Stars"
A Light Unto Your Path
Photographic details: Canon EOS 7D camera w/ EF 16-35mm f/2.8L USM lens set at 17mm. Camera was on f/5.6 for 1/5000 sec at ISO 1600.
To order a print of this image, hit the button to the left. Before you do, you may want to check the maximum size estimates or what's currently in stock below. Each item in stock has its own order button.
| Print details: maximum size | Medium | Printed | Estimated |
| --- | --- | --- | --- |
| | Fine Art Paper | 263/8 x 183/8 | 33 x 24 |
| | Canvas | N/A | 49" x 36" |
Currently In Stock
Although we can print to your specifications any size up to the above limits to the nearest 1/16" with any mat and moulding combinations, the below prints are available immediately:
Print Number
Description
Price (includes sales tax & shipping)
Matted:
#7
matted 15"x11", black inside white mats (outside 20"x16")
$102
#8
matted 15"x11", gray mat with black core (outside 20"x16")
$88
Framed:
#5
framed 26"x18" print, white mat with black core, black frame (outside 383/4"x303/4")
$503