Brown Bears and Salmon
Brooks Falls, Katmai National Park, King Salmon, Alaska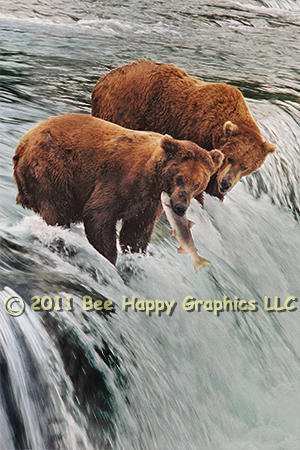 Katmai National Park is on the Alaska Peninsula north of Kodiak Island. We were leading our Sea Scout group on an extended camping trip. We drove from Miami to Anchorage, but had to take a float plane into Katmai National Park. The campground is surrounded by an electric fence and there is an elevated boardwalk and viewing platform at the falls, but bear encounters are common on the trail between the campground and the falls. Fortunately, the bears are so preoccupied with fattening up on salmon for the winter that the danger is diminished.
When a mature male, like the ones you are most likely to see at the falls (see explanation at Three Brown Bears), catches a salmon they usually take it to the shore, where they strip and eat the skin (and roe) from one side, flip the fish, and strip the skin from the other side before releasing the rest of the fish to float downstream. They are only interested in the parts richest in fat as they prepare for hibernation. The carcass may be picked up by younger males and females (or eagles, and so forth) further downstream.
rev: 5/2020
To order a print of this image, hit the button to the left. Before you do, you may want to check the maximum size estimates or what's currently in stock below. Each item in stock has its own order button.
Photographic details: Nikon F3 35mm Film SLR with a Tokina 100-500mm f/5.6 telephoto zoom. Negatives scanned by Photo Pro.
| Print details: maximum size | Medium | Printed | Estimated |
| --- | --- | --- | --- |
| | Fine Art Paper | 15" x 11" | 20" x 13" |
| | Canvas | N/A | 26" x 17" |
Currently In Stock
Although we can print to your specifications any size up to the above limits to the nearest 1/16" with any mat and moulding combinations, the below prints are available immediately:
Print Number
Description
Price (includes sales tax & shipping)
Matted:
#2
matted 15"x11" print, brown inside white mats (outside 20"x16")
$101
Framed:
#1
framed 14"x11" print, black inside off-white mats, each with stepped corners, black frame (outside 223/4"x193/4")
$207